Top: Fashion Union*// Trousers: H&M// Shoes: River Island//
Necklace: Topshop//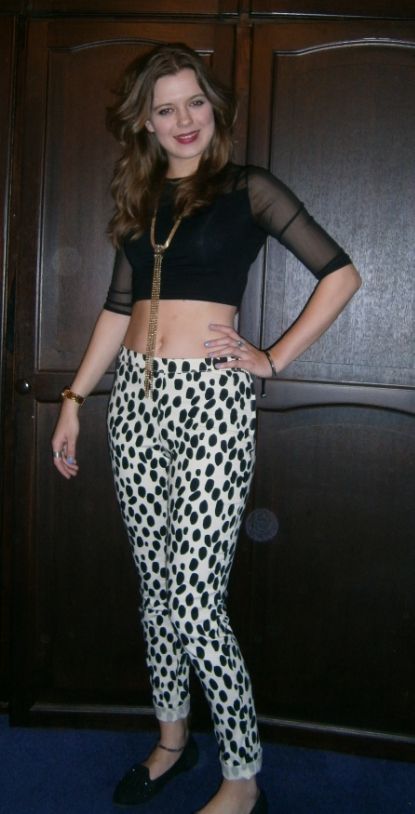 Thank god it's Saturday. Honestly, I don't know think I've left the library this week. As it's nearing essay deadlines I've had my head down trying to get the four monsters that I've been assigned done and dusted. It's got to the point now where I've become a 'library regular' and get the occasional nod off people I've never spoken to yet could describe in detail due to the fact we're ALWAYS in there!
Now normally it's a pretty casual affair, rock up at Lanc's library around ten, stroll on over to a free computer, or peruse the bookshelves at leisure, even sneaking a cheeky sandwich in if you can get it passed the librarians. However, as the end of term looms the rest of the (sane) student body goes into panic mode, invading "the regulars'" territory and forcing us to skip/jog round the library in search of computers. Due to this slight change in tack, I've ended up wearing pretty practical clothes this week; you can't wear heels when you're pegging it up and down stairs. So I thought I'd treat myself one evening and dress up in my finest attire.
The gorgeous mesh top is another of my little
Fashion Union
treats and, at a tenner, you really can't complain. Paired with a leather skirt, black tights and boots this look is killer. However, as you can probably see from these pics, I've got my belly out therefore totally ignoring the French 'less is more' approach - I just couldn't resist trying out my dalmatian-print trousers with this lovely little number and I think, if I'm feeling confident, they'll look fabulous on a night out! The necklace cost a hefty £1.50 in the Topper's sale, it's an unusual, good quality piece which adds a little bit of interest to the look and I'm sure you've seen the shoes in a number of my posts (apologies)!
Anyhoo, rather a long one tonight lovelies, but thought I'd best update you on my current (mind-numbingly boring) situation. Hopefully things will start to perk up - I've been home this weekend and bought a few dazzlers which I'll share with you soon!